The Tivy Mountain Preserve is located on the south side of the Kings River near the community of Piedra, in the southern part of Fresno County. It is on the south side of Elwood Road near its junction with Piedra Road. The preserve covers much of the north-facing slope of the mountain.
SFC purchased the first 40 acres in 1999, using funds made available from the Central Valley Project Conservation Program of the Bureau of Reclamation. Since then, the preserve has been expanded to 825 acres.
Habitat
The land was purchased for the specific purpose of rescuing a rare plant from the brink of extinction. Keck's checkerbloom (Sidalcia keckii) is known to occur in only two places in the world: a small site zoned for residential development in Tulare County and the north-facing slope of Tivy Mountain. It is believed that much of the checkerbloom's historic habitat was destroyed when soil was removed for the construction of Pine Flat Dam.
Keck's Checkerbloom grows only in an unusual type of soil that results from the weathering of serpentine rocks. The soil of Tivy Mountain also supports an unusually rich array of native perennial grasses.
Hikes
Tivy Mountain has no established trails. Hikes to the summit of the mountain are very strenuous cross-country treks with an elevation gain of about 2300 feet over rocky terrain. However, the view from the top is splendid. SFC also conducts low-elevation walks to admire and photograph the spring flowers.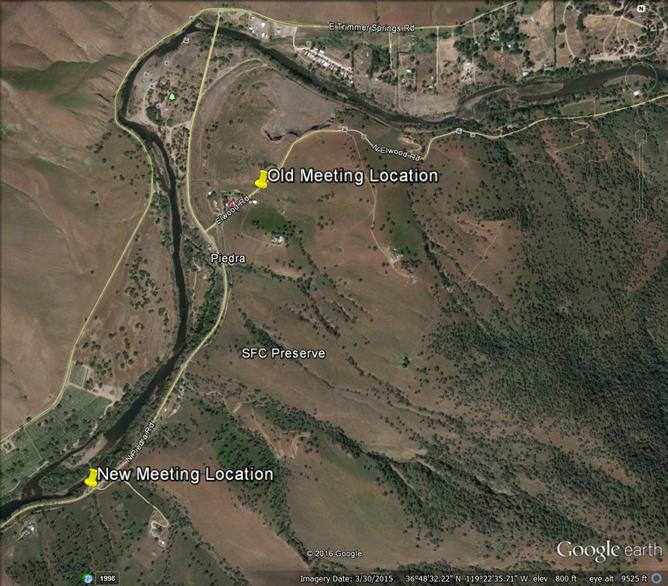 Directions to the Tivy Preserve
From Fresno, take HWY 180 east through Centerville, cross the Kings River bridge, and turn left on Piedra, following the sign to Wonder Valley. Follow Piedra Road about seven miles through Tivy Valley, past Avocado Lake and a weir. Meeting area will be a turnout 0.9 miles before Elwood Road on the left. Look for a sign that says TIVY HIKE: Sierra Foothill Conservancy.
(Or, go east from Fresno on Belmont Avenue. Belmont will turn into Trimmer Springs Road as it turns north along the Kings River. Follow Trimmer Springs Road to Piedra Road, turn right on Piedra Road and cross the Kings River. Proceed on Piedra Road past Winton Park entrance, past Elwood Rd, the meeting area will be on your right).