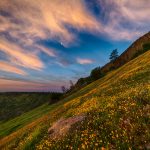 Sierra Foothill Conservancy Annual Sponsorship Program
Sierra Foothill Conservancy (SFC) invites you to join community-minded business leaders in supporting land and water conservation in the foothills of the Sierra Nevada. Position yourself and your business as strong environmental stewards, and contribute to the education and health of your clients and employees by becoming a Sierra Foothill Conservancy Annual Sponsor today!
Benefit Your Business
Your participation supports SFC's efforts to protect critical land and water resources and is a direct investment in your business's bottom line. Your sponsorship directly supports the two leading industries in our region—tourism and agriculture.
Your partnership with Sierra Foothill Conservancy supports your community relations and marketing objectives by allowing you to:
Be recognized as a conservation leader by other environmentally-minded business and community leaders.

Reach SFC's audience of landowners, conservation supporters, policy makers, and potential clients via our website, social media, newsletter, annual report, and events.

Provide your own customers with information regarding current conservation efforts and successes in your community.
Make an Impact
Your contribution to Sierra Foothill Conservancy is heavily leveraged. Every $1 donated by a business supports $15 to $30 in direct land protection efforts. With your support SFC can advance community driven conservation efforts, act quickly to protect threatened lands, and ensure land and water conservation remains a priority in the community.
Annual Sponsors receive incentives –
Exclusive Hikes led by our knowledgeable Docents and Staff to areas not open to the public.

Tickets to our exciting Annual Fundraising Dinner & Auction with live music, great food and trips to exotic places up for bid!

Promotion at Events, in our Newsletter and Annual Report and on our Web Site.

SFC Gear Bag – Swag Galore!