The Austin and Mary Ewell Preserve at Fine Gold Creek was acquired by SFC in 2008. It protects 718 acres of land and one and one half miles of lower Fine Gold Creek starting where it flows into Millerton Lake. Like most foothill streams Fine Gold does not flow in the summer, but it does maintain several large pools of water even in the hottest months.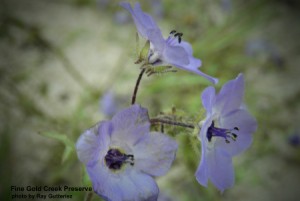 History
The Preserve was established with funding from Mr. Ben Ewell and family, the Pacific Gas and Electric Company, the Bureau of Reclamation, and the Wildlife Conservation Board (part of the California Department of Fish and Game).
Habitat
In addition to the riparian vegetation along the creek, the Fine Gold Preserve protects Valley Elderberry Longhorn Beetles, Western Pond Turtles, and one of the few southern Sierra populations of the Dutchman's Pipe Vine Swallowtail butterfly.
Check out the Fine Gold Creek Preserve Conservation Story by the Planning and Conservation League Foundation.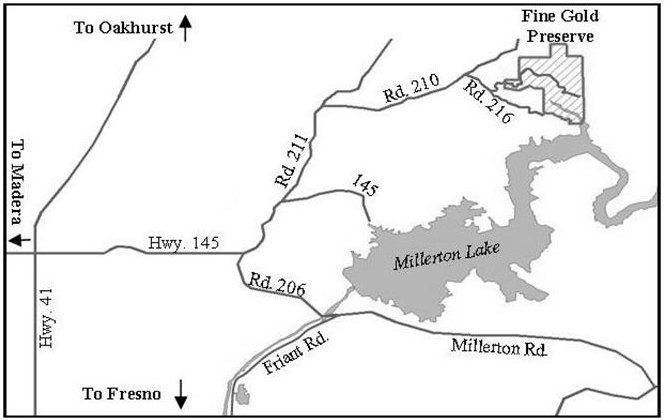 Directions to the Austin and Mary Ewell Preserve at Fine Gold Creek
From Fresno, take Highway 41 north. 11 miles from the Friant on-ramp turn right on Highway 145. Go 3.3 miles to the first stop sign; keep going straight as Highway 145 becomes Road 211. Go 3.7 miles from stop sign; turn right onto Road 210. Go 2.5 miles; stay to the right on the  paved road, which becomes Road 216. Go .5 miles; you will see  a double-wide gate on the left. You will meet the hike leader here. Driving time is about 25 minutes from the Friant/Highway 41 on-ramp.