The Ted K. Martin Wildlife Preserve is the former 280 acre Tallman Ranch. It was purchased in early December 2012 through the generosity of Mr. Ted K. Martin. The property, now known as the Ted K. Martin Wildlife Preserve, is located just east of the McKenzie Preserve and is part of Little Auberry Valley.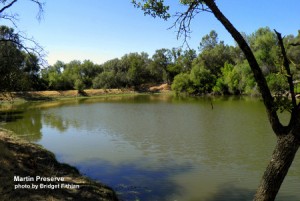 History
 The historic ranch was purchased by the Tallman family in 1934 and had included an orchard and a grape vineyard.  The property still has a few old olive trees remaining.
Habitat
The preserve includes mostly blue oak woodland and some riparian habitat. There are ephemeral streams, springs, and four ponds on the property, which make it a haven for foothill wildlife species. During the preliminary wildlife survey, 16 wood ducks were counted on one of the ponds! This area is a migratory corridor for many species, and it will continue to be a refuge, thanks to the generosity and foresight of Mr. Martin.
Public access to this preserve is more restricted than on some of SFC's other properties.
Mr. Martin passed away in the early spring of 2013 and will be remembered for his generosity and commitment to protecting foothill lands.