RUTH MCKENZIE TABLE MOUNTAIN PRESERVE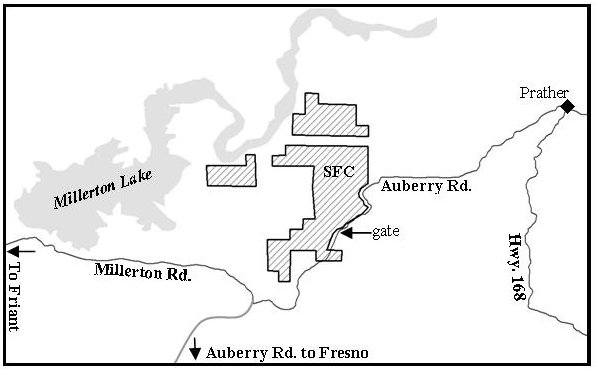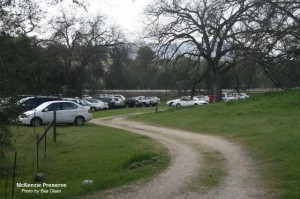 From Fresno, take Freeway 41 north. Exit at Friant Road and turn right at the bottom of the off-ramp. Take Friant Road to the town of Friant. You will see Friant Dam ahead of you. Follow Friant Road uphill, past the dam. At this point, Friant Road bends to the right and changes its name to Millerton Road. Stay on Millerton Road for 5 or 6 miles until you come to a stop sign at Auberry Road.
At Auberry Road you will see a gas station on your left. Using the gas station as your benchmark, note your mileage and turn left. Go slightly over 3 miles on Auberry Road. You will see some table mountain formations ahead. When you reach the 3 mile mark, slow down and turn left onto the preserve property.
The entrance to the preserve is on the left, where you will see a large corral and a gate. Drive in at the gate and park in the parking area.
MARY ELIZABETH MILLER PRESERVE AT BLACK MOUNTAIN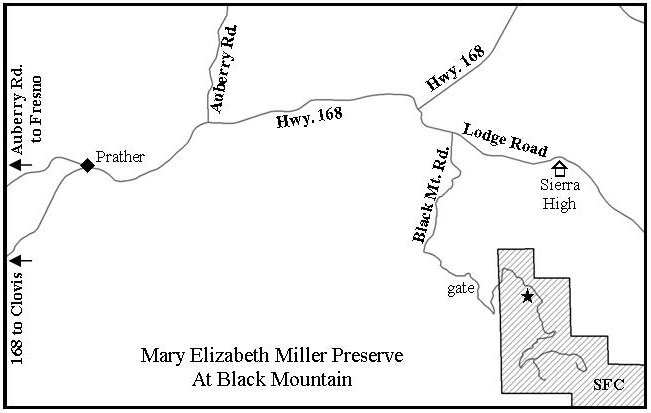 From Prather continue on Highway 168 2.75 miles to the first stop sign. There will be a Park & Ride on your right. Go through the intersection and onto Lodge Road. At about 1/8 mile you will see Sierra Hills Baptist Church on your right. Just beyond the church's driveway is Black Mountain Lane. Turn right. Go 1.5 miles to a green gate across the road (not a driveway gate). Go another 1.5 miles to a driveway on your right. Go down the driveway about 100 ft. and you will see the house and office.
AUSTIN AND MARY EWELL PRESERVE AT FINE GOLD CREEK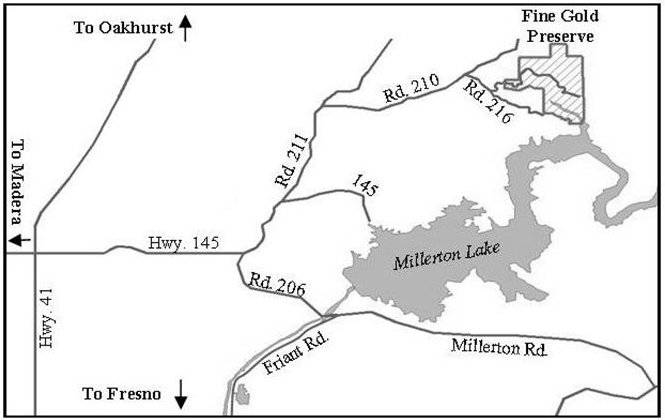 From Fresno, take Highway 41 north. 11 miles from the Friant on-ramp turn right on Highway 145. Go 3.3 miles to the first stop sign; keep going straight as Highway 145 becomes Road 211. Go 3.7 miles from stop sign; turn right onto Road 210. Go 2.5 miles; stay to the right on the paved road, which becomes Road 216. Go .5 miles; you will see a double-wide gate on the left. You will meet the hike leader here. Driving time is about 25 minutes from the Friant/Highway 41 on-ramp.
TIVY MOUNTAIN PRESERVE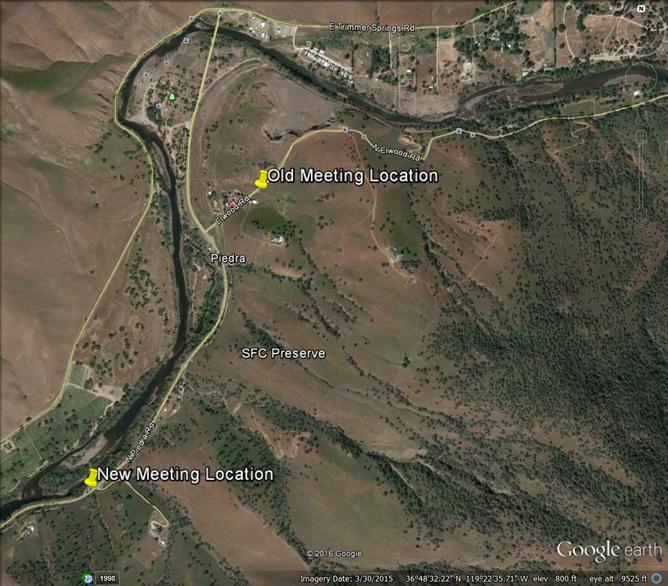 Go east from Fresno on Belmont Avenue. Belmont will turn into Trimmer Springs Road as it turns north along the Kings River. Follow Trimmer Springs Road to Piedra Road, turn right on Piedra Road and cross the Kings River. Proceed on Piedra Road to Elwood Road and turn left.
Continue on Piedra Road for 1.5 miles. You will pass a corral on your left, and the gate just past it on the left is where the hike will begin. There is a large turn out on the right hand side of the road a bit further where the meeting and parking area is located.
(Or, go east from Fresno on Kings Canyon Road. Cross the Kings River at Centerville and turn left on Piedra Road. Follow Piedra Road about seven miles. Meeting area will be 0.9 miles before Elwood Road on the left.)