When:
March 26, 2017 @ 9:00 am – 1:00 pm
2017-03-26T09:00:00-07:00
2017-03-26T13:00:00-07:00
Where:
Fine Gold Creek Preserve

Contact:
Sierra Foothill Conservancy
2097425556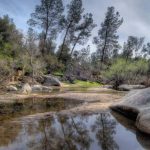 This is a moderate hike that follows a 3 mile loop which meanders along the slopes of the preserve and offers scenic views of Fine Gold Creek. Part of the trail takes you along the creek to explore the streamside habitat; other parts of the trail are mixed with gradual slopes, steeper inclines, and rocky areas. It's a wonderful trail that will allow you to experience a greater area of the preserve!
It will take approximately 4 hours to traverse the trail, stop for a bite to eat, and return to the parking area. Make sure to bring water, snacks and a lunch. Photo by Tim Flemming.
There are a limited number of spots available, so reserve yours today!
Docents
* Sue Stone
* Eve Sproule
* Doug Broten
Special Note:  Please be aware that this is a guided hike and participants will not have the ability to enter and exit the property at their leisure. If you do not wish to hike with a docent or you are unable to commit to the timeframe scheduled, you may consider visiting our preserves during an Open Preserve Day where there are fewer constraints. 
 **Though the gate will remain locked during the event, we ask that you please not leave anything valuable in your vehicle.**