When:
March 25, 2017 @ 9:00 am – 2:00 pm
2017-03-25T09:00:00-07:00
2017-03-25T14:00:00-07:00
Contact:
Sierra Foothill Conservancy
2097425556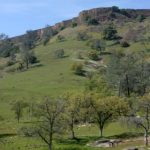 This hike travels along the Discovery Trail and then up through Boling Gap. From the saddle, hikers will make the trek up to Table Mountain. You will enjoy views of the San Joaquin river, explore the table, and break for lunch before traveling back down the mountain.
This hike is about 6 miles round trip with some level walking, then a climb to the top; elevation gain is 1000 feet. It takes about 5 hours, allowing for lunch at the top. Make sure to bring water and snacks or a lunch.
Docents:
* Mike Mirigian * Linda Sward
* Kayla Cardoza * George Sward
There are a limited amount of spots available, so reserve yours today!
Special Note:  Please be aware that this is a guided hike and participants will not have the ability to enter and exit the property at their leisure. If you do not wish to hike with a docent or you are unable to commit to the time frame scheduled, you may consider visiting our preserves during an Open Preserve Day where there are fewer constraints.  
Photo by Michael Olwyler
 **Though the gate will remain locked during the event, we ask that you please not leave anything valuable in your vehicle.**