When:
April 15, 2017 @ 9:00 am – 2:00 pm
2017-04-15T09:00:00-07:00
2017-04-15T14:00:00-07:00
Where:
Black Mtn Preserve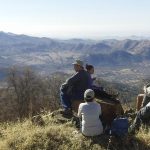 Due to the recent heavy rains in the Tollhouse area the road to Black Mountain is inaccessible. We will reschedule this Black Mountain Summit Hike to a later date. Stay tuned!
The hike to the summit is an approximately 4 mile round trip with an elevation gain of 800 feet. Hikers will follow a dirt road to the top, and if the group wishes the hike may go another mile out to the ridge. Expect to spend approximately 4 hours on this adventure, possibly more if the ridge trail is explored. This is an easy/moderate hike with good footing and wondrous views! Make sure to bring water and snacks or a lunch.
There are a limited number of spots available, so reserve yours today!
Special Note: Please be aware that this is a guided hike and participants will not have the ability to enter and exit the property at their leisure. If you do not wish to hike with a docent or you are unable to commit to the timeframe scheduled, you may consider visiting our preserves during a Member Day or Open Preserve Day where there are fewer constraints.
**Though the gate will remain locked during the event, we ask that you please not leave anything valuable in your vehicle.**